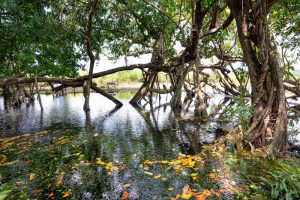 Are you looking for fun fall and winter events in the Sarasota area? You've come to the right place! Home-Tech is Southwest Florida's fast, dependable appliance and AC repair company. We've been here since 1981, so we know the area and what there is to do this time of year. With Covid-19 in full swing, you may be having a tough time finding fun things to stay busy while also being safe. We wanted to make this list Coronavirus friendly, but you may still have to make sure the activities are still going on before attending!
Kayaking and Water Tours
Kayaking seems to be exceptionally popular in Sarasota, thanks to the mangrove tunnels. Because this water adventure is outdoors and can be done alone or with one other person, it's perfectly Covid-friendly. When you're outdoors, you don't have to worry as much about the virus, which is why this water sport has become a way of life for many people over the past few months. Whether you own your own kayak or need to book a tour, fall and winter is the perfect time to take up kayaking in Florida. The temperatures are lower and you don't have to worry as much about afternoon storms, so this time of year is simply delightful for this water sport.
Kayaking SRQ, LLC comes highly recommended and was started by a husband and wife who wanted to showcase the beautiful Sarasota Bay. Whether you're a local or come from far away, Kim and Greg Gregory are known for making strangers into friends. These two know the area very well and are prepared to amaze their customers with the breathtaking views.
Farmers Markets
If you've never been to a farmers market during fall and winter, you're seriously missing out! The mild weather makes it an enjoyable experience for all. You'll also be helping local businesses who may have struggled during Covid-19. Due to the pandemic, markets may be closed on certain days or have precautions you must follow while there. Since a farmers market is outdoors, you'll be able to social distance from others while still helping local business owners. There are too many farmers markets to list, but we'll try our best by highlighting the most popular and convenient ones in the Sarasota area.
Most cities in Florida host holiday boat parades during December, but did you know Sarasota hosts one of the largest ones in the state? People gather in from all over the Sarasota area to watch the parade live. Whether you're there to see all the beautiful lights or to eat from the delicious food trucks, you're guaranteed to have a good time. The Sarasota Holiday Boat Parade of Lights has been going on since 1986 and they're proud to attract thousands of spectators each year.
Because December is still a ways out, they haven't announced the status of it yet do to Covid-19. But hopefully, with it being outdoor and already socially distanced in nature, the show will still go on. As people flock to Centennial Park to watch the excitement, be sure to wear a mask and follow safety precautions! The weather usually requires a light sweater and jeans, but it's the perfect weather to enjoy a night by  the water. The picture shown to the left is courtesy of the Herald Tribune.
Fall and Winter Events in the Sarasota Area
Things may be a bit different this year, but nothing can ruin the best seasons of the year – not even 2020! Enjoy the weather while you can and get outside with family and friends. During this time of uncertainty, remember to be jolly and bright this holiday season.
If a major appliance or your AC goes out, don't let it spoil your fall and winter months. Instead, contact Home-Tech! We provide fast, emergency repairs to Southwest Florida. Our technicians are drug tested, background checked, specially trained and never sub-contracted out. You know what you're getting with Home-Tech, which is why we've been around since 1981. If you're looking for protection from costly repairs, talk to us about purchasing a Home Warranty. Request a free quote online or call us at 800-800-8356.