Property Manager
Being a Property Manager in SW Florida requires quite the arsenal of service providers to assist your clients. Your Home-Tech Representative is excited to help you start turning your property owners into Home-Tech Members. Our Members only have one number to call for appliance repairs, appliance purchases, air conditioning repairs, air conditioning installation and minor plumbing and electrical services. The convenience of a Service Agreement will be valuable to you and your clients.
Value for You and Your Clients
Protection from Unexpected Repair Expenses
Peace of Mind for Clients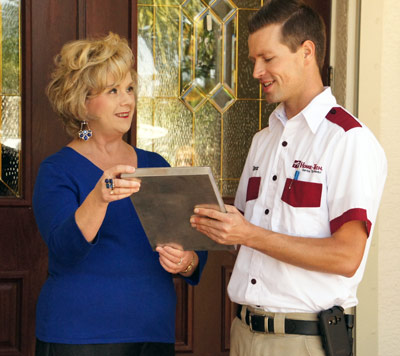 Testimonials
"I am a property manager and recently had 5 A/C units serviced for their annual cleaning and maintenance. The tech called (as requested) to give me notice that the was on his way and politely introduced himself and even put plastic booties on his shoes before entering the units. He was very thorough, competent and explained what he observed on the A/C units. He even took the time to answer an owner's questions by phone regarding his system and the filters used. He was on our property for the greater portion of the day and worked through a rainstorm and never even took a break for lunch! I would like to thank him again for his hard work and dedication."
~ Mary Ann Lodde
Referral Agreement
Submit your application online now. Your Home-Tech representative will be in contact with you to help you get started with your referrals.