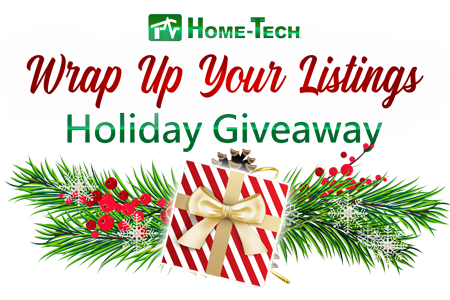 It's a Holiday Giveaway!
Home warranties from Home-Tech bring peace of mind during transactions and referral REWARDS for you! Your Home-Tech Representative is ready to help you with quick pricing! For every home warranty referral you'll get an entry to win our Holiday Grand Prize Cash Giveaway!
To enter the contest, submit an address for a home warranty quote. (It can even be your own home!)
Submit a Referral
After applying to be a referral partner with Home-Tech you can submit a referral at any time.
New Service Agreements go into effect 10 days after payment is received by Home-Tech.

*Receive one entry into contest for each referral submitted for a Home-Tech Home Warranty. Your Home-Tech Rep will contact you with pricing and details for a home warranty for each property you submit.
Contest runs December 1st – 31st, 2021. One grand prize winner to be drawn January 7th here at Home-Tech and announced on Home-Tech's social media sites.
Grand Prize - $100 gift card. The winner will be featured with a huge SHOUT OUT on our social media sites and agent website.
Any realtor partners of Home-Tech can enter. If you aren't a partner yet, sign up to become a partner.
NOTE! - Property addresses must be in our 5 counties we serve – Collier, Lee, Charlotte, Manatee and Sarasota!