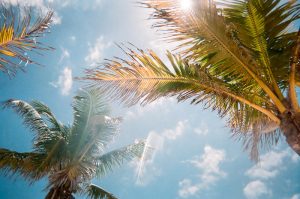 Fall and winter in the Fort Myers area means two things: cooler temperatures and a lot more residents. Because October through April signifies "season" in Southwest Florida, there are typically a lot more people in town. So, we at Home-Tech decided to come up with a list of fun things to do while you're in the Fort Myers area for season. On this list, we'll include fall and winter activities in Fort Myers, Sanibel, Captiva, Cape Coral, Estero, Naples, Bonita Springs and Marco Island.
2020 has been a bit…different, right? Well, because of that, these activities may not be happening. Due to Coronavirus, some of these fun activities may be postponed until further notice or next year.
Farmers markets are a great way to enjoy the mild Florida seasons and taste interesting food from local vendors. Many farmers markets run from October through April, but may only be one day a week. There are over 20 farmers markets happening in the area from Fort Myers to Marco Island, so there are too many to list every single one. However, if you click here, you'll see a map of farmers markets in Southwest Florida. I've listed five of my personal favorite markets, but you truly can't go wrong with any of them! Due to their outdoor nature, it seems like all of these markets are still operating during Covid-19, but have strict precautions in place. Before going to a farmers market, look up the one you're going to to ensure it's still happening and that you're following their guidelines.
Coconut Point Green Market – Every Thursday from October to April, this farmers market is up and running. From fresh fruit smoothies to beautiful handmade jewelry, you'll find something you love. Situated right in front of Coconut Point mall, it's the perfect location if you have some other shopping to do.
Lakes Park Famers Market – The beautiful greenery at this farmers market is what makes it stand out. You can enjoy this outdoor market at Lakes Park every Wednesday from October to April. Located in a convenient spot for Fort Myers residents, this market is easily accessible and full of unique vendors.
Vanderbilt Farmers Market – Naples residents, this one's for you! Featuring 90+ vendors every Saturday all year-round, this farmers market is tough to beat. From fresh flowers to local restaurant food trucks, it's easy to spend an entire day here.
Marinatown Farmers Market & More – This lively North Fort Myers market has live music and wonderful options for food. It runs from November to April, so they haven't updated yet if they'll be participating this year or not. If they are, go check them out on Sundays for a good time!
Sanibel Island Farmers Market – I may be partial, but this one is my all-time favorite. My family and I ride our bikes to this farmers market every Sunday in December, although it's there from October to May. Between the wonderful array of seafood options and the awesome fruit stands, you're sure to come back every week.
Visit a Pumpkin Patch
Although Floridians often don't get to experience the fun of hay rides or corn mazes, we still get to enjoy a good ole' fashioned pumpkin patch. Even with Coronavirus, these patches will still be open because frankly, the farmers HAVE to get rid of their pumpkin supply. Before heading over to one, definitely check their website to better understand what activities each patch is still offering and what safety precautions they have in place.
Typically, pumpkin patches are visited when you're just driving down the road, see one and yell "OH, let's get a pumpkin!" These pumpkin stands usually won't have all the fun activities that come along with fall, but you may get lucky. If you're looking for the full fall experience, check out Farm Fresh's pumpkin patch in Alva or Farmer Mike's in Bonita Springs.
Go Shelling
There's nothing more Coronavirus-friendly than a beach where you can spread out and enjoy fresh air. That's why we're recommending you make shelling a new hobby! The best time to find the shells is when the tide is especially low, like early in the morning. The ultimate time to collect them is early in the morning after a strong storm with high winds. You typically won't find that sort of storm during fall and winter, but hey…it's Florida. Any sort of storm can happen here, whenever it wants! Regardless, the cooler temperature makes fall and winter the perfect time to be at the beach.
If you're looking to try a special event surrounding sea shell collection, Marco Island hosts a Sea Shell Collection & Identification event on Tigertail Beach. Sanibel Island has consistently been named the "Seashell Capital of the World," so you should check that out, as well. Locals say the best place to find shells on the island is at Turner Beach at Blind Pass.
Christmas Specific Events
You'll have to stay updated on Christmas specific events as it gets closer, because depending on the pandemic, some events may be cancelled. There are a couple events, however, that will probably still go on due to their historic or outdoor nature. Home to Edison and Ford's Winter Estates, Fort Myers is known for its rich history. Every Christmas, the home is decorated cheerfully and hosts informational and interesting tours.
Tours are currently still taking place with social distancing in mind, and will probably continue into winter to celebrate their special Christmas tours. Christmas boat parades are also a very popular holiday event throughout Southwest Florida. Taking place in many locations, this event will hopefully still happen due to it being outdoors and already socially distanced in nature. You can see the photo to the left of last year's boat parade captured by Southwest Florida Travel.
Fall and Winter in the Fort Myers Area
Fall and winter in the Fort Myers area is the perfect time to head outside and enjoy the weather. Not having to plan your day around an afternoon storm or the sudden heatstroke is a major bonus! Home-Tech has been providing Southwest Florida with fast, dependable appliance and AC repairs since 1981, so we definitely know the area. If you find yourself in need of an appliance or system repair or replacement this season, contact us at 800-800-8356. We also provide Home Warranties to protect you from costly repairs!