Listing Disasters #1: Emergency – AC Problems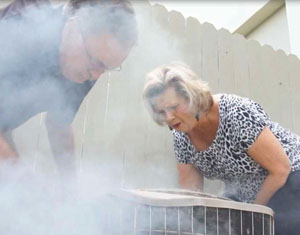 Won't blow cold air
Leaking water in the home
Not cooling enough
Won't shut off
Won't come on
Everyone wants a "hot listing" in the SWFL market that will sell fast, but you don't want a literally HOT listing with no AC. Showings and Open Houses come to a halt. You don't want to slow down the sale because of some listing disasters. Cover your listings with a Home-Tech home warranty offering SAME DAY emergency service for these problems. Parts and labor for AC repairs are covered by the agreement. *
Listing Disasters #2: Emergency – Refrigerator or Freezer not Cooling
Anyone who has ever had to empty out and clean out a dead refrigerator knows the pain, the stink and the money lost from food spoilage. Sometimes it's so bad a refrigerator can't even be salvaged.  How can you hold showings or Open Houses if the refrigerator isn't working? Home-Tech prioritizes this as a same day emergency repair. Again, parts and labor are covered by the agreement.*

Listing Disasters #3: Emergency Service Needed – 7 Days a Week 
Don't let listing disasters keep you from selling! Home-Tech Members have these repairs covered for same day emergency service.  Our technicians and staff work every day (even weekends and holidays) so you can keep on working to get your listings SOLD quickly and without worries. We even take calls up until 10pm each day for emergencies.
Listing Disaster #4: Not Enough Listings?
In this market we know it's a huge problem.  Stand apart in your listing presentation by offering a Home-Tech home warranty to the Seller (to be transferred to the Buyer). It's an affordable part of your marketing plan to stand out to customers on both sides of the transaction as well as set yourself above other agents competing to get the listing. Call your Home-Tech Representative to discuss more ways to use the home warranty to stand out in this unprecedented market.
*Some restrictions apply. For promotional use only. Please see official Service Agreement for details.