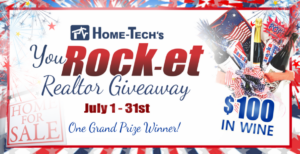 Home-Tech thinks our Realtor partners rock! We appreciate every lead and referral you give us for our home service warranty. We reward $50 for a Gold Service Agreement and $30 for a Silver. In addition to that, for July we want to reward one Realtor with a GRAND PRIZE giveaway.
We have put together a beautiful, patriotic, metal basket full of $100 of wine and other goodies! We will drop this off at our winning Realtor's office. We will also feature you on Home-Tech's social media!
This contest ran from July 1 – 31st and the prize winner was picked on August 5th.  
Are You Enrolled in our Referral Program?

It is easy to sign up for our Realtor reward program. Just click ENROLL HERE and fill out the website form. Choose the Home-Tech Rep you want to give leads to from the drop down menu.
You can refer Buyers, Sellers, friends, neighbors – even yourself for your personal home or rental properties!
How to Enter to Win
It's easy! Call, text, or email your Home-Tech Rep with the property address. That's all we need! Your Home-Tech Rep will get right back to you with pricing and coverage options.
You can also visit our agent site and fill out the web form to be entered. You will get an entry for each address you submit to us to be quoted.
Check Out Our Facebook Page
On August 5th we will post a video of the drawing and the winner will be chosen. We love using social media sites!
If we aren't following you yet, just send us a Facebook request with your info and we will be happy to connect with you!
Rocket Your Business with Home-Tech
Negotiating for or giving a home service warranty from Home-Tech will help your real estate business SOAR. It's a very memorable gift to give a Buyer or Seller and will help secure their loyalty to you for future transactions.
WINNER ANNOUNCED!
Check out the video to see who won the "You ROCK-et Giveaway" basket!
We hope you enjoyed your 4th of July weekend, and as always, we will be working and here for you if you need us…
even on the holidays!